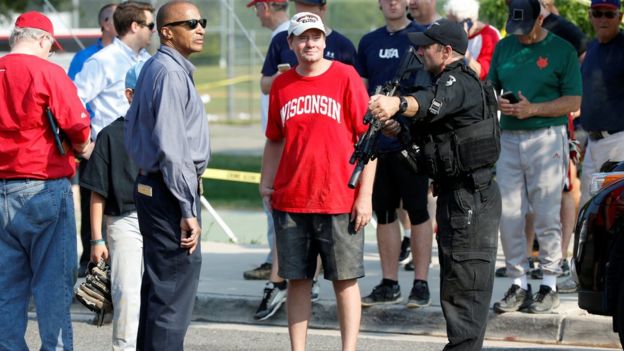 This past month has been insane. Hell, even the start of this week featured Foghorn Leghorn as he testified in front of a Congressional Committee about Lyin' Trump.  However, I was NOT prepared for Wednesday morning, where someone from my home state came to my current state to shoot up Republican lawmakers as they trained for a charity baseball event against their Democratic counterparts.
I saw the news pour in from the lobby TV before I made my way out of my apartment complex and the first thing I thought was how close this was to my proximity? Was it going to be like what happened to Gabby Giffords?  Was it by the hands of a liberal who went off the rails? Did it really need to come to this?
I guess what I'm trying to get at is that regardless of how you feel about the assailant's politics or penchant for violence, it's stunningly clear that in the midst of this Trump Presidency, we are losing ourselves. The Comey testimonies, along with Trump's reaction to alleged ties with the Russian Government, have now revealed the disturbing possibility that Donny might have obstructed justice like a cheap dictator with aviators.  The fact that an investigation into this obstruction has surfaced is not surprising, but we all need to hope that Mueller doesn't get the axe either in this case.
It's harrowing stuff folks.  Really.  However, one's outrage about these very disturbing allegations (or other issues in general) has to be tempered so that it's channeled in the right way.  Go talk to your Reps.  Hash it out with your Conservative friends and co-workers.  Point it out to a fellow passenger on the Metro whose face is frowning just as much as yours when you both read the Express.  Get your pals together and run for office.  Do all those things.  Just don't go out and hurt people.   Just don't. We don't need that shit right now.  We've got enough of it in front of the TV as is.